Atelier des Lumières / Carrière des Lumières
Art immersion : Digital and Creation(s)
From January to June 2023
EIn the Île-de-France region (France), this experimental artistic and cultural project, based on a visit to the immersive digital exhibition at the Atelier des Lumières, explores the issue of digital arts with primary school pupils. During this 20-hour course, they discover immersive and digital art before working with an artist on a collective digital work.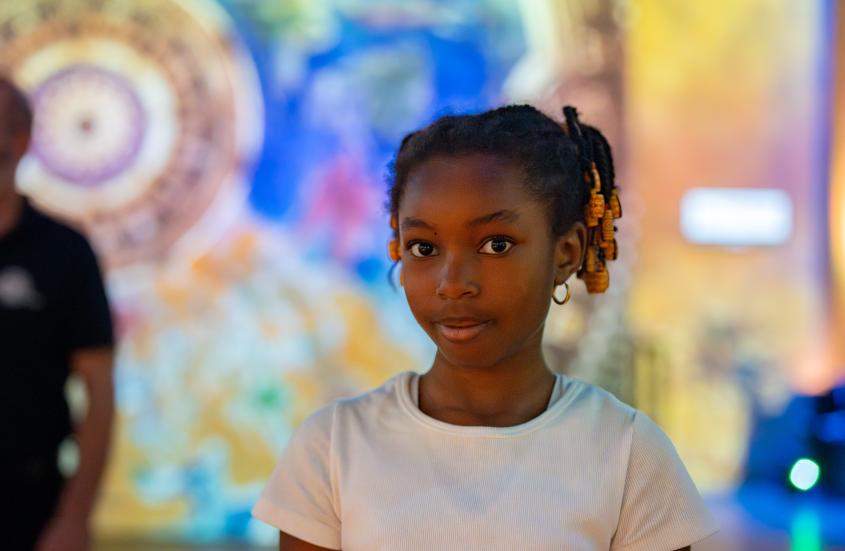 Digital technology is at the heart of students' daily lives, including in the cultural practices they have been offered. The aim is to give meaning to this development and to explore with the pupils the notions of artist, immersive digital art and the place of the visitor in the cultural space, because immersion puts the senses and the sensory at the centre of the encounter with the work.
This project is part of a dynamic local cultural initiative in conjunction with the schools' local arts structures: the Centre des Arts d'Enghien-Les-Bains, Château Ephémère (Carrières-sous-Poissy) and Siana (Evry-Courcouronnes).
Born in 2022, "Art immersion: Digital and Creation(s)" is an experimental project offered to three schools in the Paris region, as part of a close collaboration with the Académie de Versailles.
The 8 steps of the program
Step 1 | Initial training for teachers by the project coordination team;
Step 2 | An educational workshop to prepare for the visit to the immersive digital exhibition, using the project's teaching resources provided by Culture for Children;
Step 3 | A visit to the immersive digital exhibition in an art centre (Atelier des Lumières, Paris, for instance) ;
Stage 4 | A creative workshop in class, led by a mediator using the creative materials provided;
Step 5 | 10 hours of artistic practice with an artist, focusing on digital creation;
Step 6 | A visit to one or more of our cultural partners and/or local venues;
Step 7 | An event to showcase the children's creations, with the project team, families and partners.
Stage 8 | An evaluation system is used to highlight the effects of the project, over time, on the various stakeholders.
Join the program
The selection of participating schools is made in collaboration with the Academies.
The program in pictures