Our lines of action
Chapo
The programmes developed by the Culture for Children are organised in three areas to better adapt to the specific needs of children: "Art and digital", "Culture and well-being" and "Heritage and creativity".
Multiblocs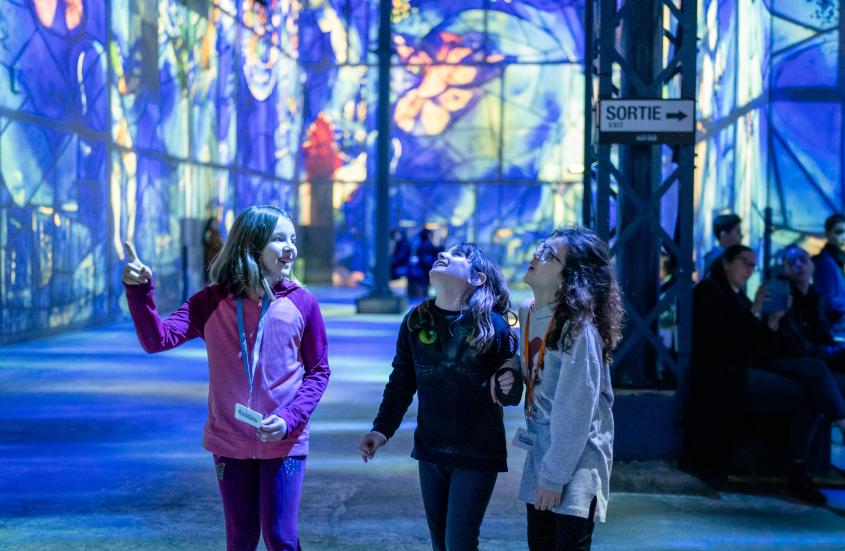 1. Art and digital
The national "Art immersion" program reaches more than 7,000 children each year and rely on the potential of immersive digital art as a medium of transmission. The educational and creative content of the project is developed in connection with immersive digital exhibitions presented in three digital art centres: Atelier des Lumières, Bassins des Lumières and Carrières des Lumières.
The "Art immersion: Digital and Creation(s)" project explores digital art in greater depth. In partnership with local cultural organisations, pupils work with an artist to create a collective digital work, thanks to this course lasting over 20 hours.
2. Heritage and creativity
The programme "Discovering the hôtel de Caumont" (Aix-en-Provence) offers children the opportunity to immerse themselves in the daily life of children in the 18th century and to learn about the Art History. 
"Extraordinary architectures : the private mansions" (Paris) is a program designed to introduce children to the Art History  and architecture through the discovery of several Parisian town houses.
"Theater and heritage" (Aix-en-Provence) provides a unique opportunity to discover the Hôtel de Caumont through a 10-hour training course in scenic expression.
3. Culture and well-being
The "Dance Journey" introduces children to the Art History through a sensory approach and physical expression. The aim of this journey is to introduce children to three French cultural sites: the Jacquemart-André Museum, the Atelier des Lumières and the Hôtel de Caumont. 
With the "Between Courtyard and Garden" program, children discover the codes of landscape design and explore gardens through their senses. 
"Go to the gardens" is an event initiated by the Ministry of Culture. Culture for Children organises this event in two magnificent gardens: the Hôtel de Caumont and the Château des Baux-de-Provence.