Projects
The 18th century on stage!
An immersion project in the Age of Enlightenment through the medium of theatre
4.10.2023
From November, the Fondation Culturespaces is delighted to offer two classes of pupils a new arts and cultural education programme: a year of immersion in the Age of Enlightenment through theatre.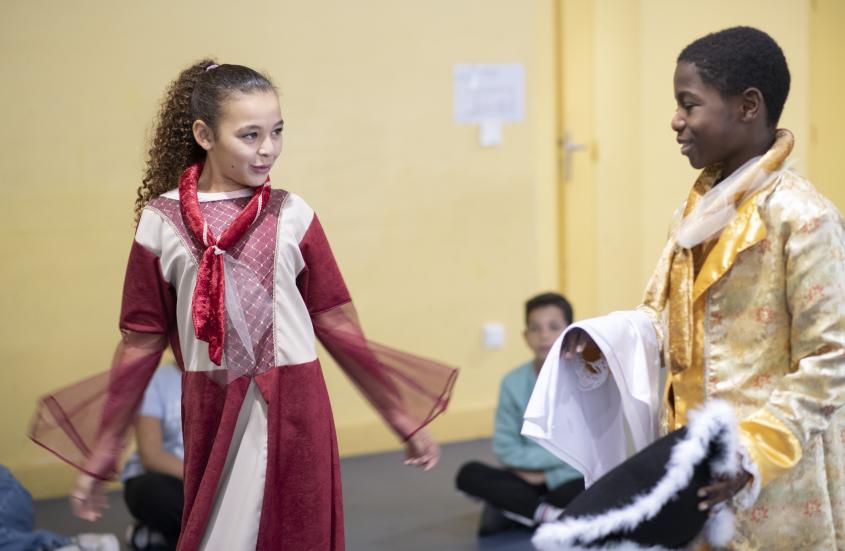 The 18th century on stage! is a comprehensive EAC project offering two classes of pupils the chance to explore the 18th century, the founding century of our contemporary society, through the practice of theatre.

By using creative visual and theatrical experiences, the aim is to encourage cross-curricular learning and the development of children's non-cognitive skills: through experience, dialogue and exchange, while learning to express themselves with their bodies and senses thanks to 40 hours of practice throughout the school year.


The programme
•    Visits of cultural sites: Hôtel de Caumont, Hôtel de Gallifet and Théâtre du Jeu de Paume in Aix-en-Provence
•    School excursions to theatre performances
•    Meetings with actors, directors, authors and history teachers
•    Plastic arts and theatre practice
•    Collecting work to write the theatre piece
•   Organisation of a final performance in a local theatre
Theatre: becoming a player in your own life journey
Our programme offers an opportunity to work on the fundamentals of theatre: occupying space, listening, letting go, diction, movement, fiction, appropriating texts, which are all ways of learning in a different way.

We've built this programme around theatre because it's a powerful communication tool that helps develop listening skills, empathy, cohesion and a taste for teamwork. Theatrical practice enhances self-confidence by enabling everyone to find their place within a group, making it a valuable tool in the fight against dropping out from school at a critical time in the school career: the transition from primary school to secondary school. For this reason, the final stage of the project consists of a final performance on a major local stage. This privileged moment will be an opportunity for the children to share this exceptional experience with those around them and to gain in confidence.

We're convinced that every young person can succeed if they have confidence in themselves and in their ability to take charge of their own lives!
 
The beneficiaries
The 18th century on stage! is designed for two school classes from disadvantaged areas in the French PACA region : a fifth-grade class and a group of children with disabilities from secondary school.  The aim of the project is both to introduce pupils to other forms of learning and to combat inequality and early school drop-out. The Aix-Marseille metropolitan area is home to some very significant social and cultural inequalities: in the PACA region, 22% of primary school children are enrolled in REP or REP+ schools and 60% of pupils in REP+ schools drop out before the baccalaureate. Studies show that disadvantaged pupils who are introduced to the arts and culture are five times less likely to drop out of school and are more likely to go on to professional careers, making our arts and cultural programmes effectivetools for reducing inequalities.
 

Supporting us
In 2024, the overall budget for the programme will be €20,000, representing an average cost of €450 per child. That's why we're launching a crowdfunding campaign and need the support of all of you!
•    If you donate €35, you'll fund educational materials for one child.
•    If you donate €125, you will help fund a mediator for a 2-hour workshop for a class.
•    If you donate €450, you will enable one pupil to benefit from the entire programme.


For more information about your donation, please contact the sponsorship department: adriana.dumielle-chancelier@culturespaces.com