Projects
Back to the results of the pilot project "Singing Opera!"
28.08.2023
On Friday 23 June, the Jacquemart-André museum welcomed pupils from a school in a priority educational zone. After completing an introductory course on the museum, opera and opera singing, they performed for an audience of up to 70 people.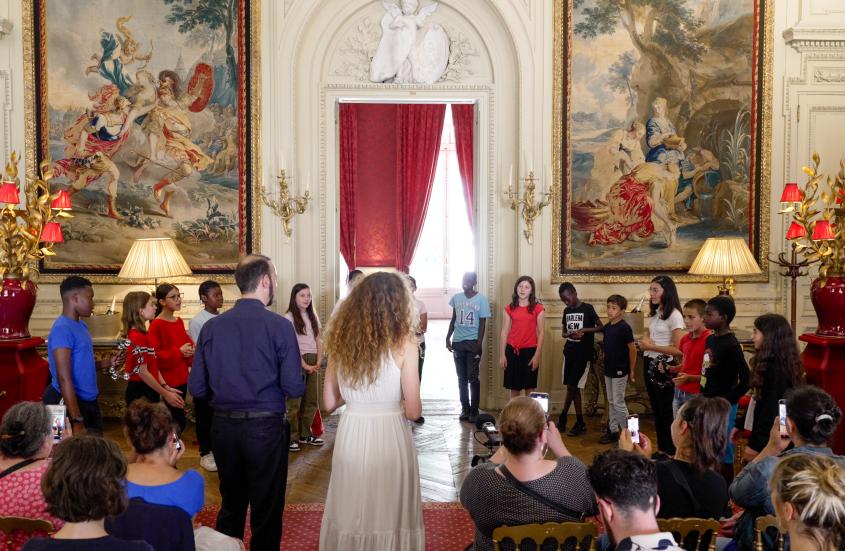 The "Singing Opera!" project gives children who are far from the cultural mainstream a chance to discover the art of opera, thanks to a partnership with Opera a Palazzo. The children begin by following the "Extraordinary Architectures" programme to discover the Jacquemart-André museum, its history and its architecture. Then, three professional artists from Opera a Palazzo (soprano Emilie Rose Bry, tenor Christophe Poncet de Solages and vocal pianist Katia Weimann) came into the classroom to introduce them to this magical world.
During the concert, the pupils sang a chorus from Carmen and another from La Traviata. Most of the children had never heard of opera, yet they were quickly captivated by the thrilling stories and songs, from the most romantic to the most rhythmic. Talents were revealed... And perhaps this will be just the beginning of the discovery of opera for some of them!
"We've always believed that classical music is not the preserve of the few, but belongs to everyone," said Armand Cohen, Chairman of Music Opéra, at the event.
We need your help to keep this project alive and to fight for the democratisation of culture... A fund-raising campaign is under way, so please help us to reach 100%!