Projects
The experimental project "Art Immersion: digital and creation(s)"
23.02.2023
Following the launch of a pilot project on creative digital technology in the Île-de-France region, the Fondation Culturespaces has deployed this experiment in the southern region, in partnership with the Académie d'Aix-Marseille and a local cultural partner.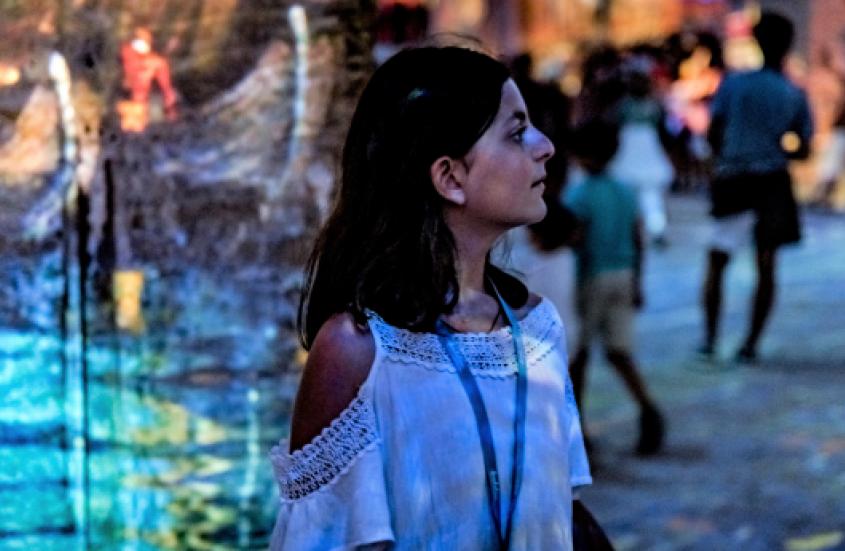 As part of its "Art Immersion" artistic and cultural education program, the Fondation Culturespaces wanted to explore the issue of creative digital technology and immersion with students, by building a framework for educational innovation involving, for each region, the academy concerned, classes of different levels, and a local cultural partner.  
After the academy of Versailles, this experimental project has been deployed in the Southern Region in partnership with the academy of Aix-Marseille. It is developed around the exhibition presented at the Carrières des Lumières (Baux-de-Provence) by addressing the themes of digital art, the passage of time and sustainable development.
Two classes of 9 to 11 children from the Rose la Garde elementary school in Marseille benefited from the different stages of the "Art Immersion" program, to which were added 10 hours of artistic practice with Loïse Bulot, an artist specialized in digital art from the SECONDE NATURE/ZINC association, the project's cultural partner.
A visit to the Friche La Belle de Mai, a 45,000m2 third-party artistic creation and innovation center in Marseille, was also offered to the students.
"SECONDE NATURE/ZINC is recognized for its pioneering commitment to contemporary artistic creation in the digital age. Its mission is to accompany the cultural mutations of our society through the singular and sensitive eyes of artists around three axes: digital creation, digital culture and digital creativity." Cultural partner of the experimental project, in the Southern region.
As part of the 10 hours of art practice, students were able to create mini animation films on a tablet in pairs:
Creation of decorations with ink - through a first workshop of plastic art, the pupils draw with ink, on white sheets of 50x60 cm, then digitized and a negative filter is applied, imitating the colors and lights of the night;
Stop motion and green screen film - using software on a tablet, students integrate the image of the set created on a green screen. On their tablet, using stop motion techniques (volume animation), they then animate animals and creatures within their set to create their story;
Video editing and green screen filming - students take turns taking pictures of themselves and animating their character in the setting. Finally, they create and add sound sequences to their animated tableau to enhance their immersive animated film.
Thus, they discovered visual an sound creation of animation.
To know more about the experimental project in the Ile-de-France region, read our article.