Between courtyard and garden
From January to December 2023
"Between courtyard and garden" is conceived as a sensory journey through the fauna and flora of the French gardens of the Hôtel de Caumont: a playful and interactive visit to help children discover the Gardens Art through their senses, to connect them to their emotions and to allow them a moment of escape from their daily lives.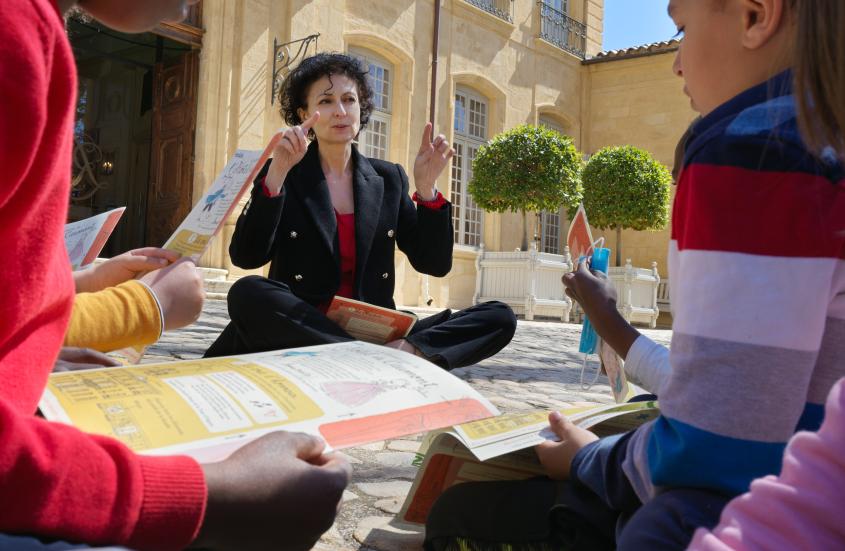 This tour is based on the story of Jean-Baptiste de Bruny, the historic owner of the Hôtel particulier. The children, like amateur botanists, explore the gardens and discover the place through their senses: smell, touch, hearing and sight. They evolve at the rhythm of their senses and, in contact with the various species of trees and plants, discover the codes of landscaping: plan, aesthetics, choice and maintenance of plants... With this journey rich in multi-sensory and sensitive experiences, the neurotransmitters of the child are activated and rebalanced in order to stimulate pleasure, calmness and relaxation but also memory with the pedagogy around biodiversity. 
Terms and conditions of participation
Culture for Children offers the program free of charge to eligible childcare facilities: 
REP/REP+ or CLA primary schools, or primary schools located in isolated rural areas; 
Medical structures for children with disabilities aged 5 to 18; 
Social structures and associations (children from 5 to 12 years old); 
Pediatric hospitals (children from 5 to 12 years old).
Only the transport remains at your charge.
Registration is mandatory via the orange button "Participate". 
Presentation documents
Flyer "Between courtyard and gardens 2023" (to come)
The program in pictures