The Dance Journey
From March to December 2023
The Dance Journey was designed specifically for children with disabilities or illnesses, to help them discover the artist in the spotlight at the Atelier des Lumières 2023, Marc Chagall, through a sensory approach and physical expression.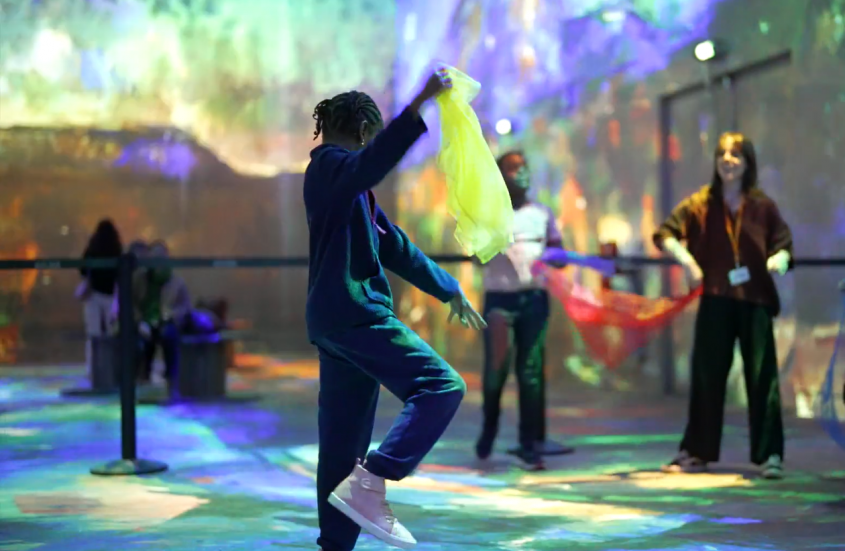 In 2023, the Atelier des Lumières is presenting the exhibition "Chagall, Paris - New York", an immersive journey through these two crucial stages in the artist's long trajectory. The dance journey is a playful, inclusive and multidisciplinary program, in 4 stages, which aims to help children discover their cultural heritage, and to awaken their creativity and curiosity while promoting their personal development through an adapted dance practice. 
The 4 steps of the program
Stage 1 | Educational workshop in the host structure : introduction to Marc Chagall, his life and his artworks.
Stage 2 | Visit, on your own, of the immersive digital exhibition at the Atelier des Lumières.
Stage 3 | Dancing workshop animated by a professional dancer : danced game with a professional dancer.
Stage 4 | Danced visit with the professional dancer : restitution of the danced games in the museum.
Terms and conditions of participation
Culture for Children offers the program free of charge to eligible childcare facilities:
Structures for children with motor, psychic, mental or ASD disabilities;
Schools hosting inclusive school systems;
Hospital pediatric services (from 5 to 12 years old)
Only the transport remains at your charge.
Registration is mandatory via the orange button « Participate ».
IMPORTANT: When registering, please select the "parcours dansé".
The program in pictures