THEATER AND HERITAGE
From November to June 2023
Culture for Children is extending its educational program "Discovering the XVIIIth century" by adding a program of five theatre workshops for fourth and fifth graders (ages 9-11). This cycle of 10 hours of scenic expression classes reinforces the cross learning and deepens the educational objectives set by the initial project.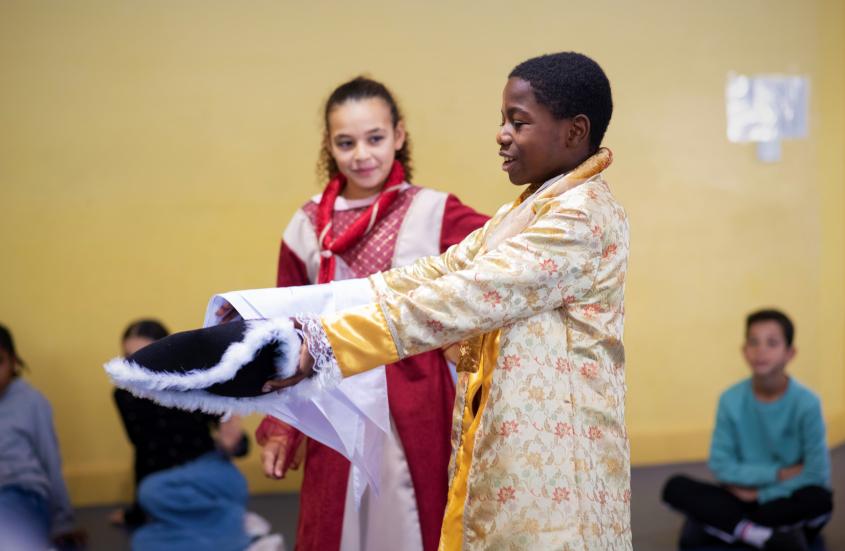 This program "Theater and Heritage" will allow children to extend the creative experience by expressing themselves with their body and senses. They push their imagination further while deepening their knowledge of the history and evolution of thought in the 18th century. These sessions will be an opportunity to work on the fundamentals of theater: the occupation of space, listening, letting go, rhythm, voice, diction, character building, body, movement, fiction... Theater, a powerful tool for communication, helps develop listening skills and empathy, and reinforces group cohesion and the taste for collective work. No more notion of competition, the theatrical proposal puts everyone at the service of creation!
The restitution will be the occasion to create a time of friendly intergenerational exchange to share these exceptional experiences.
The 5 steps of the program
Stage 1 | Educational workshop : children learn about daily life in the 18th century through the story of two characters of their own age and through role-playing. 
Stage 2 | Guided tour : equipped with an illustrated map, the children discover the places in the form of an exciting treasure hunt.
Stage 3 | Creative workshop : The children discover the art of heraldry during an artistic workshop and imagine their personal coat of arms.
Stage 4 | Introduction to theater workshops : the students approach the Enlightenment and the evolution of the currents of thought of the time through the scenic experience.
Stage 5 | Creation of a collective work and performance : Thanks to a tailor-made pedagogical file, the teachers and educators are encouraged to propose to the children a common reflection around the creation of a collective coat of arms, representative of their group.
Terms and condition of participation
Culture for Children offers the program free of charge to eligible childcare facilities: 
REP/REP+ or CLA primary schools, or primary schools located in isolated rural areas; 
Medical structures for children with disabilities aged 5 to 18; 
Social structures and associations (children from 5 to 12 years old); 
Pediatric hospitals (children from 5 to 12 years old).
Only the transport remains at your charge.
Registration is mandatory via mail : fondation2@culturespaces.com
 
Educational resources
Culture for Children develops the educational content of the program. In this section you will find various educational resources:
Presentation documents
Flyer of the program 2023 (to come)
The program in pictures